Ready To Officiate Your Special Day
The Issue Of Children Being A Part Of A Wedding: This is definitely a sensitive issue, one that if you went out on the street, and randomly polled many people, you would likely generate a multitude of different thoughts. Some people would say, that it is viewed as insulting to not allow children at a wedding, while others will say , absolutely.. kids have no place at an adult gathering such as a wedding and/or reception, and still others may say that they really have no preference either way. I am addressing this issue from the standpoint of being an officiant, at times, leading and directing the rehearsal, standing at the end of the aisle observing, and what I have viewed (and experienced) in the hundreds of weddings I have officiated over the years. I am hoping to give some guidance with this issue, and some food for thought on whether to have children present for the festivities or not. This is not meant to be critical in any way, nor even advising, but more of things to consider, as there are enough things to think about in planning a wedding, right? I am merely trying to help others out there, make a uniformed decision on whether this will be the right decision for them or not, and if it IS the right decision, to be as prepared as possible. I Will Start Off With The Age Of The Child: When I was 6 years old, I served as the flower girl at my cousins wedding. I look back on the pictures of me at that wedding, walking down the aisle at the church, and sitting at the head table at the reception, and they honestly make me chuckle. I look very poised, as if I am taking my job very seriously. I remember feeling very honored to be a part of these festivities, and super excited. Though I do not remember a lot of that day and night, I have to believe, that my cousin felt that I was old enough, and mature enough to handle the responsibility. I do remember that I did not require much direction, I followed my orders, walked when I was told, stood where I was told, and did not put up too much of a fuss about anything. Now, had I been a few years younger when this wedding took place (and it was a Catholic high mass wedding too!), I do not know that, that would have been the case. I was a 1st grader by this point, reading, writing, doing arithmetic, and capable of sitting in a classroom all day, following the directions of my teacher. Children that are younger than their kindergarten year, as a general rule of thumb, are likely going to need more direction-and, in the case of toddlers, or even babies, the likelihood of said child being able to walk down that aisle, and be as stoic and serious as I was, at the age of 6? Slim to none. I have seen children under the age of 5 throw temper tantrums, lay in the middle of the aisle way kicking, screaming, and refusing to walk down. I have seen children that are too young to handle the responsibility throw the rings, cry, refuse to stand (or sit), insist on being picked up by their parents (who may also be serving as attendants, or even,are the bride and groom themselves). I have seen children that end up having to be picked up, and walked down the aisle by an adult who is not even in the wedding party. I dont mean this disrespectfully of the child (or parents) at all. It is just that, in all actuality, they may be too young to handle the responsibility. I once heard a story of a ring bearer who was about 3 ½. He got to the end of the aisle, and promptly grabbed the rings off of his pillow, and threw them in the pond that was behind the wedding party. Said rings were gone-forever. The #1 thing thus, to think about, is like my cousin way back when, consider the age and maturity level of the child before thinking about having them be in the wedding. If of course, it is not even up for debate, just be prepared for anything. With that in mind, I offer up the following sections as helpful hints: Rings (Ring Bearer): Piggy backing off of the prior story that I relayed in the above section, is the issue of the rings. If the ring bearer is younger than 7, you may want to consider having the Best Man and/or Maid/Matron of honor hold the rings, and let the ring bearer use fake rings , OR-he can hand the officiant the boxes, while the Best Man/Maid/Matron of Honor hands the actual rings to the officiant. This makes them feel that they are still the Ring Bearer, are important, and have the official title. If Younger Than Seven (7) Years Of Age: Helpful Thoughts If the child(ren) is in the wedding party: parents should be designated to help/guide the child down the aisle. Offer snacks or toys as an incentive afterwards, or right before. Make sure (as much as possible), that child is well rested before the ceremony. If the parents of said child(ren) are in the wedding party themselves, consider hiring a babysitter for the day, or someone unaffiliated with the wedding party to help with the child. This also goes for during the ceremony. The babysitter/nanny/designated person can take the child out of the ceremony room should they become disruptive, or fidgety. If the child is a baby or toddler, have them wheeled in a wagon! (or other fun, creative device) It is enjoyable for them, distracting, and it makes a huge difference. You do not have to worry about them actually walking. I have never officiated a wedding, where this was done, that did not generate a great deal of smiles, Awwws, and giggles. Guests love it! If the flower girl is very young (3 or younger), do not expect them to throw flowers/petals down the aisle before the bride walks down. The likelihood of this happening is slim. What I have seen work MUCH better, is for them to just carry a flower basket. Awesome Ideas For The Reception: Have a kid-friendly table. Have toys, and coloring books, and puzzles on it. Consider hiring a child care provider to watch the kids, and even-if possible, a table located in a different room than where the adult guests are. Otherwise, what will often happen, particularly if the parents are in eyesight, is the children will meander towards their parents. Have a kid-friendly menu too. Macaroni and Cheese, chicken tenders.. all the favorites! Have the DJ offer up a special song for the kids to dance to, and/or a game just for them. It makes them feel special, included, and that their presence is definitely appreciated too.
One of the things that I frequently see, is arriving to a venue or ceremony site, and the wedding party has no idea who is supposed to conduct the rehearsal.
Ideally, the VENUE should provide a wedding coordinator. Someone that is familiar with the grounds, the standard order of a rehearsal, where everyone will stand, how they will walk for both the processional and recessional, and can help cue everyone when it is their time to proceed. 
Unfortunately, venues I am finding, do not always provide this service. It seems to be, that it is becoming more commonplace (unless it is a church), that couples are on their own, in terms of orchestrating the rehearsal. 
Officiants should always have knowledge of the official order of the processional and recessional, music cueing, and where everyone should stand and sit. However, this is not the job of the officiant to provide the service. Couples that are having a rehearsal, and particularly a large wedding party, where there is not a wedding coordinator present at the venue, should familiarize themselves with the standard rehearsal process.
With that said, I have conducted many, many rehearsals for couples that wish to leave that aspect to me. There is an additional fee of $50.00 if I am to coordinate the rehearsal vs. just participate in it.
When meeting with your venue, ask them if there will be someone on site the day of the rehearsal to coordinate it.
Wedding Officiating 'land' can be overwhelming to navigate, and to decipher who is the best fit for you as a couple.
Believe me... I understand. With so many choices out there, male or female... how do you know that the officiant you have picked is right for you?
And for the purposes of this blog, why hire me?
First and foremost: with ANY officiant that you pick, they should be able to answer my FAQ's (under the About section of this website). If they cannot answer those questions, I would weigh very heavily if they are the right fit.
Second, and this is often an overlooked part of wedding ceremonies... is you will be guaranteed, that you can hear me. I cannot tell you how many weddings I have attended, where the officiant, AND the couple, could not be heard. Measures were not taken to ensure that the officiant (at least) had a microphone in place. This is frustrating for all guests (especially the elderly)..they want to hear your vows. This is the most important day of your lives. Later, when you view the video, and can barely hear anything, it is frustrating as well- for you. I have my OWN microphone system, and if your venue/DJ does not provide, and the wedding is large enough, that I require one, for a small additional fee, I will transport my system, and rest assured, guests will be able to hear.
Third-I custom design ceremonies. I do not just plug your names into a religious or non-religious template. I take the time to get to know you, and from there, after a series of questions, decipher what you are looking for. In a matter of days, you will receive a draft of the ceremony, so you can review it, approve it, and we can make any necessary changes before the wedding date.
Fourth- I have pictures of former ceremonies. Anyone can get ordained these days, but without pictures to prove their work.. how do you know?
Fifth: I keep up on all state rules/guidelines. For example, I know, that my ordination is not accepted in VA or PA. I will not perform a wedding in those 2 states.
Sixth: I am very open minded.. to any different ideas, or things you want incorporated into the ceremony. For example, I had a couple ask me to dance up the aisle pre-ceremony instead of just walking. No problem!
And finally, I am reasonably priced. This is a loose term.. as I have found that some officiants claim to be reasonably priced, but have not taken the time to get to know the market for officiants, nor what a fair price is. I have done the research, and my prices fall right in the average arena of what they should be.
Feel free to contact me with any additional questions, and happy wedding planning!
I am often asked when you should book your officiant for your wedding (particularly if it is a big wedding.. big- defined these days, as 75 people or more).
The simple answer to that question, is generally 6-12 months ahead of time. The risk that is run in waiting too long (particularly when the wedding is during peak season: May-October), is that the officiant that you really want, will likely be booked with another wedding, and because most weddings take place on Saturday... inevitably, the times will collide.
During non-peak season, officiants are often available last minute. But if your wedding is during that 6 month stretch of most popular months to get married, make sure that you follow the general rule of thumb:
The first two things to be booked are your venue, and your officiant.
It pains me to have to turn couples away, or refer them to someone else, when I am already booked. I take great pride in my wedding ceremonies, and want to be able to officiate as many weddings as I can.
As always, trying to be helpful :-)
And happy wedding planning!
It is a well known fact, that pre-marital counseling is not  a requirement to getting married (unless it is in certain religious institutions).
I too, do not require it by any stretch of the imagination, but I do recommend it.
Consider this:
-we take drivers training to obtain a license to drive.
-We attend college, to obtain advanced degrees to be qualified to do what we choose to do for a living.
-Mothers and Fathers- to- be take Lamaze classes to learn how to birth a baby.
-We take personal interest classes and seminars to learn how to engage in a new skill (s).
-We seek out friends/others for advice on buying homes (particularly if you are a first time home buyer).
And there are many other examples... but my point is this:
When we choose to get married, we are embarking on one of the biggest decisions of our lives. We are saying 'yes, I will agree to living with you, committing to working on this relationship, and staying with you until death do us part'. 
Yet, most do not choose to obtain pre-marital counseling to determine if the biggest issues that will come up in the marriage will be solvable.
What makes me unique as a wedding officiant, is that my main hat, is as a psychotherapist and mental health counselor. I do a great deal of pre-marital and marital therapy, and I will openly say, that pre-marital therapy is not a guarantee by any stretch of the imagination that the marriage will last. However, it does give you an initial jump start to discussion on issues that will inevitably come up, and that need to be thought of, and puts you miles ahead of many.
As always: I offer my incentive that if a couple signs on for 8-10 structured pre-marital therapy sessions with me, I will officate their wedding for free.
Included in these sessions are 'hot' topics such as the following:
-Finances
-Sex
-Children: to have or not to have
-Communication dynamics/improving
-Family backgrounds
-How to handle various life changes, deaths of family members, moves, promotions
-Boundary setting with family members
-Moral and religious issues
And Much more.
In Michigan and Ohio (at least), peak wedding season is typically May thru October. This 6 month stretch keeps wedding coordinators, officiants, florists, photographers, caterers, and venues quite busy.
Inevitably however, the 'lull' comes upon us-and this is usually November thru April. While business can (and does) definitely slow down here in the midwest, there are ways to keep business fresh, and in preparation for the busy months ahead.
1. Consider offering an incentive for couples to marry during off season months. I for instance, am offering a $50.00 off incentive for all weddings taking place in November-January that book with me.
2. Start taking notes about how you can refresh your website, business ads, cards, etc.
3. Do not lose the momentum. Get out there-shake hands, take other vendors out to lunch/coffee. Attend bridal shows.
4. Work on new material (for officiants). Write new ceremonies, come up with interesting and new ideas.
5. Stay positive, and enjoy the break. The busy months will be here before you know it!
6. Send thank you cards to the couples that you did business with during peak months.
7. Consider doing a community talk about the nature of your business.
8. Pay attention to who is getting engaged around the holidays. This is the most popular time to get engaged-so those are definitely couples to target.
Happy peak wedding season, and 'off season'!
It can be tempting to ask a friend or family member to become ordained, and officiate a wedding. After all, you may likely have known them for a long time, and feel that they are the best fit for you. I have in fact had couples that have made the decision not to have me officiate their wedding, due to the fact that the friend or family member will officiate the wedding free of charge. I am here to tell you that before you make this decision, carefully weigh out this decision.
This is the most important day of your life. A seasoned officiant knows the ins and outs of advising you on the logistics of your rehearsal and ceremony as well as the design of the text and the ritual itself. The experienced officiant can be a wealth of information and ideas to help you create the ceremony that is perfect for you. They know what works, and what doesn't. Typically officiants like myself have a library of different ceremonies, readings, and specific extra touches to the ceremony that a friend or family member does not have. Furthermore, officiants like myself have had experience with those little mishaps that do in fact happen at times, and know how to roll with it.
If you are wanting a friend or family member to officiate, make sure that they have done their homework, and perhaps even sought out someone like myself to coach them on officiating what very well may be-the first wedding/ biggest speech of their life that they will ever give.
On July 20th, 2015 I had the honor of officiating the wedding of Monica and Bob at this gorgeous house they rented for the week on Lake Huron. It was truly breathtaking. I am more than willing to travel to your locale if it is a destination wedding like theirs. Contact me for rates. There is nothing more calming, peaceful, and serene than a beach wedding!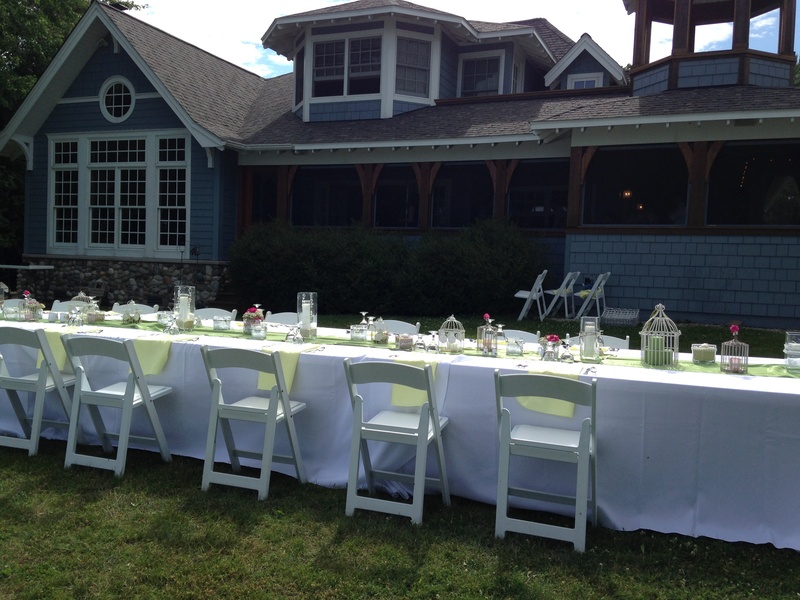 Please contact me today if interested in having me officiate your same sex union. I have done several, and will custom design a ceremony that is unique to your taste and style as a couple. 
I am super excited that it is now legal for all! 
/